How to Choose Types of Runner of mold
There are various concept and type of runner, here we will give explain about runner type depending on the temperature control, we could divide in 3 type :
1. Standard runner system
2. Cold runner system
3. Hot runner system
standard runner system are directly machined into the mold plates (plates 2 or plate 3) but we can also make in special plate that called runner plate, this plate usually use in 3 plate mold type and attached in plate three(cavity plate)
at this picture below shown that runner directly machined in plate three.
but picture below shown special plate called runner plate, those runner plate will attached in plate three, you can see from this plate that mold will have 4 cavity od product.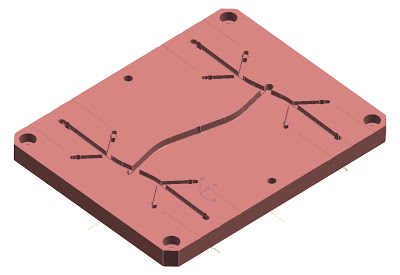 Cold runner system
this runner system have similar use with hot runner, but in different temperature, the temperature between 80-120 C, this Cold runner system used in reactive material such us rubber and thermosets type of plastic.
the difficulties in Cold runner system is
– high pressure consumption, so design more expensive
– because material is reactive, a little different temperature make different viscosities, this will make every cavity have different time to full fill.
Hot Runner System
this system should be viewed as extended nozzle in form of block, the hot runner system contains : sprue bush, runners, gate and extended nozzle, the advantage of hot runner is
– they can completely eliminate runner scrap, so there are no runners to sort from the parts,
– no runners to throw away or regrind and remix into the original material.
– no loss of melt and thus less energy and work input
– easier for fully automatic operation
– very good quality because melt can be transfered into the cavity at the optimum site
the disadvantages are :
– high cost
– thermal isolation from the hot runner manifold block is problematic
Hot runners are popular in high production parts, especially with a lot of cavities
there is 3 type of Hot Runner are :
1. the insulated hot runner, 
Insulated runner molds have oversized passages formed in the mold plate
Heated type Hot runner
2. the internally heated hot-runner system,
3. the externally heated hot-runner system
internally heated and externally heated. The first is characterized by internally heated, with the heat being furnished by a probe and torpedo located in the passages. This system takes advantage of the insulating effect of the plastic melt to reduce heat transfer (loss) to the rest of the mold. The second consists of a cartridge-heated manifold with interior flow passages
Other Popular Articles
injection parameter of PP material suggested set heating temperature Feeding [...]
we are here to help you with the turn-key [...]
what's PET ? PET chemical name is polyethylene terephthalate, also [...]